Gold trading reminder: the dollar adhere to the 16-month high, the price of gold fell below eight risk intensification!
Individual
Nov 24,
2021
00:53:02
GMT
Leads:November 24, Asian time, spot gold rose slightly, trading around 1791. Gold fell for a fourth straight day on Tuesday as the market increased bets on a Federal Reserve shift and Treasury yields and the dollar continued to strengthen. After gold's strong fall below 1800, its outlook is increasingly bearish and there is a risk of further downside in the short term.
Spot gold edged up to trade around 1791 during Asian hours on Wednesday. Gold surged below the 1,800 level on Tuesday, recording a fourth straight loss, as the market increased bets on a Federal Reserve shift and Treasury yields and the dollar continued to strengthen. But a rebound could boost some gold's safe-haven appeal. The day is packed with data releases as the U.S. begins the Thanksgiving holiday tomorrow. Today, the focus is on October PCE price index and Fed minutes, as well as preliminary estimates, THIRD-quarter GDP revisions and durable goods orders.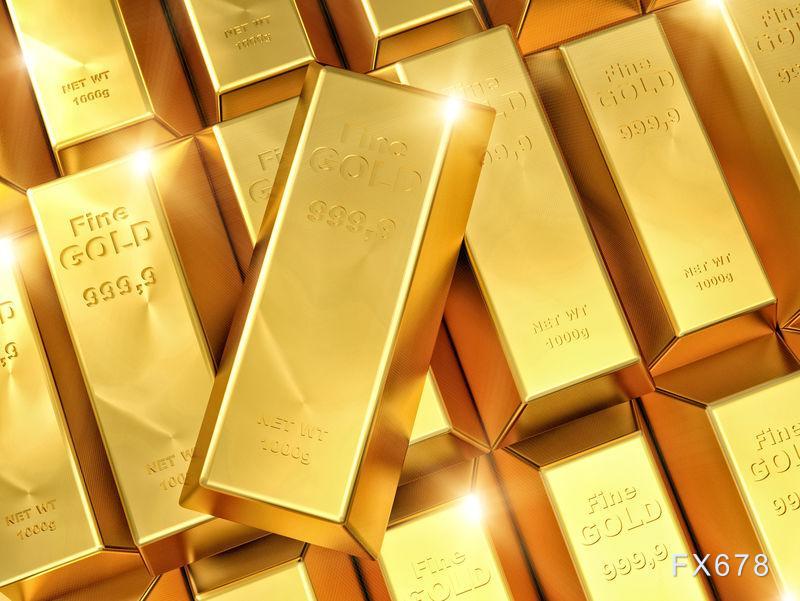 Fundamental bearish [Market increases bets on Fed hawks, investors' inflation fears continue to cool] Bond traders' expectations for U.S. inflation cooled for a fifth day as President Joe Biden's decision to nominate Colin Powell for a second term as Fed chairman helped cement expectations the central bank will take tougher action to curb rising consumer prices. Implied inflation expectations have fallen from record highs set earlier this month as clarida and other officials have signaled the Fed could accelerate its downsizing, while traders have raised their outlook for policy tightening next year. Us headline inflation, driven in large part by supply chain disruptions and policy stimulus, jumped to 6.2 per cent last month, the highest in three decades. Five-year U.S. break-even inflation fell as much as 4 basis points to 2.97 percent on Tuesday. Expectations of a more hawkish central bank and the recent retreat in oil prices have pushed five-year break-even inflation down from a peak of around 3.25 per cent in mid-November, though markets continue to see inflation well above the Fed's target range. In the face of an apparent hawkish turn by officials, interest rate markets are now close to pricing in a cumulative 75 basis point rise in 2022, while yields on two - and five-year treasuries this week rose to their highest levels since early 2020. [Dollar holds near 16-month high] The dollar index remained near 16-month highs on Tuesday after the confirmation of Federal Reserve Chairman Jerome Powell for a second term reinforced expectations of a U.S. interest rate hike in 2022.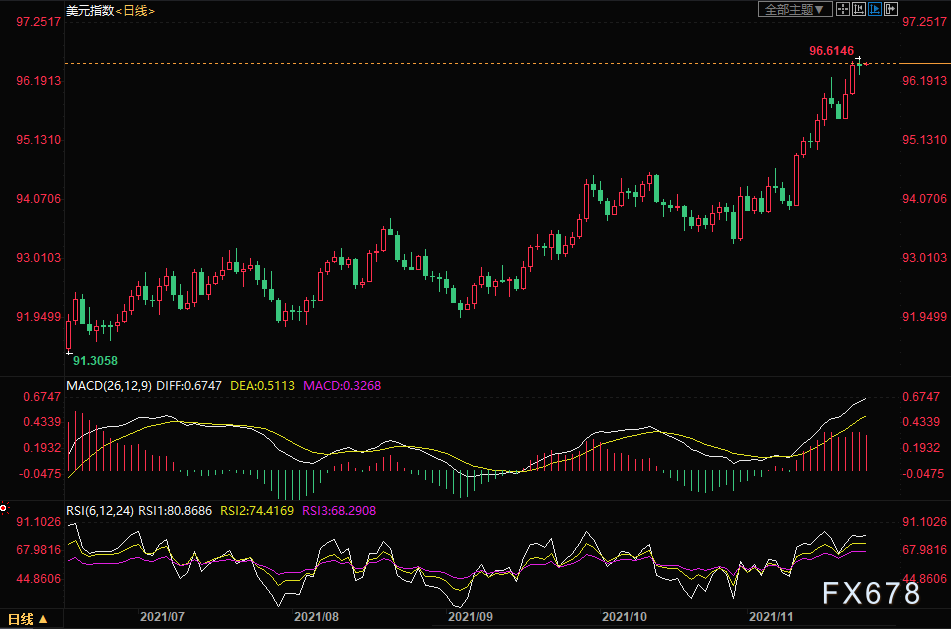 (Dollar Index daily chart) Meanwhile, the euro rebounded from a 16-month low on the back of better-than-expected growth in business activity in the region. In recent months, currency markets have been driven by differing views on how global central banks will reduce stimulus during the pandemic and how quickly they will raise interest rates. Mr Powell's reappointment bolstered the view that the Fed could start raising interest rates after it ends its bond-buying programme in mid-2022. "The outcome was seen as slightly hawkish, with futures markets now consolidating expectations for a June rate hike, which had been skewed towards July," currency analysts at Brown Brothers Harriman said in a note on Tuesday. [Benchmark Bond yields near year highs] U.S. Treasury yields edged higher in volatile trading on Tuesday as investors braced for a more aggressive Federal Reserve fight against inflation after President Joe Biden nominated Colin Powell for a second term. Trading hours will be shortened this week because of a public holiday. Steven Ricchiuto, chief US economist at Mizuho Securities, said: "There is growing pressure on the Fed to respond to the recent acceleration in inflation, not only from the inflation watchmen and hawks on the committee, but also from progressive academics and other central banks." Not all investors expect the Fed to act to fight inflation in the coming months. The Treasury sold $59 billion in seven-year notes on Tuesday, with direct bidders buying the highest percentage since December 2019. Thomas Simons, economist at Jefferies, said the level of investor interest could mean the recent rise in yields was likely to be short-lived. Spot gold is now below the psychologically important $1,800 an ounce level and has broken through some key moving averages; 'If real yields rise, then gold could become more vulnerable, reinforcing our recommendation to seek downside protection -- preferably until an eventual rebound; The bank expects gold to fall to $1,600 an ounce by the end of next year. Fundamental profit [U.S. business activity slowed slightly in November] Growth in U.S. business activity slowed slightly in November as labor shortages and delays in raw materials sent prices soaring through the middle of the fourth quarter. Data firm IHS Markit said on Tuesday its preliminary U.S. composite purchasing managers' index, which tracks manufacturing and services, fell to 56.5 in November from 57.6 in October. 50 marks the threshold for industry contraction or growth. The pace of activity growth remains above the long-run average before the pandemic, in line with the trend that the economy is regaining momentum after a brief slowdown over the summer. The input price sub-index jumped to 78.1, the highest since records began in 2009, from 74.1 in October, the survey showed. Higher prices are being passed on to consumers, suggesting that inflation is likely to remain uncomfortably high for some time. [WHO predicts 2.2 million deaths in Europe] The World Health Organization has warned that on current trends, the number of coronavirus deaths in Europe will reach 2.2 million by March and called for more people to be vaccinated. Eu officials are trying to reach a consensus on how to manage vaccine rollout. Germany's top health official reiterated that the country would not rule out any measures to contain a fourth wave of the disease. Vaccination in Germany shows signs of increasing. "Today we will announce 30,000 new cases in 24 hours," French Health Minister Olivier Veran said in parliament on Tuesday. "This is a very significant increase, confirming that we are regrettably in the fifth wave of the epidemic." A preview of the meeting minutes The Minutes of the November 2-3 meeting covered the Fed's decision to announce the scale of quantitative easing, leaving asset purchases on track to end in June next year. A few weeks later, some current and former Fed officials have called for a faster pace of downsizing in light of rising inflation and a renewed acceleration in nonfarm payrolls growth in October. The minutes may reveal just how high the bar is for adjusting the pace of downsizing. Analysts said the threshold was high, but not difficult to pass given expectations that nonfarm payrolls accelerated in November. October CPI was a surprise, and inflation could top 7 percent as soon as November. Calls for the Fed to downsize more quickly have come not only from St. Louis Fed President James Bullard, who is a voting member in 2022, but also from Governor James Waller and Vice Chairman James Clarida. Overall, after Powell's reappointment, the market's hawkish expectations for the Fed next year increased, the DOLLAR and Treasury yields continued to rise, and gold prices tumbled. With gold falling below 1800, the outlook is increasingly bearish and there is a risk of further downside in the short term.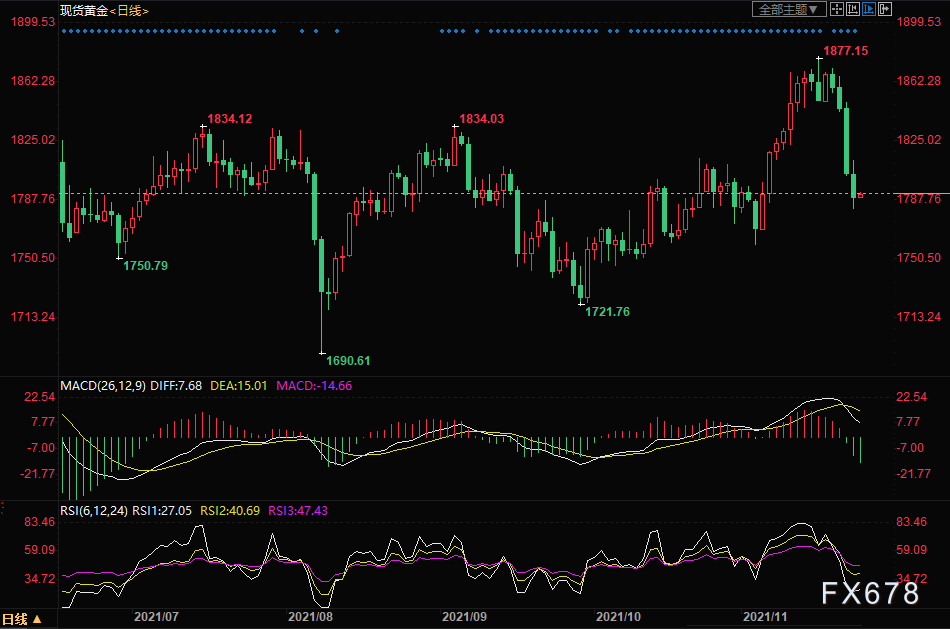 (Spot gold daily chart) Spot gold was quoted at $1791.60 per ounce at 8:53 Beijing time.
[ Disclaimer ] This article only represents the author's own views, and has nothing to do with the website.The website net maintains neutrality in the statement and opinion judgment of the article, does not provide any express or implied warranty for the accuracy, reliability or completeness of the content contained therein, and does not constitute any investment proposal, and invites the reader for reference only, and assumes all risks and responsibilities by himself.