Gold trading reminder: the number of initial applications to a 52-year low! The dollar soared and gold hit a ceiling
Individual
Nov 25,
2021
00:41:23
GMT
Leads:November 25 Asian time, spot gold rose slightly, trading around 1791. Gold closed at a cross on Wednesday, under heavy pressure from strong U.S. economic data that boosted the dollar and Treasury yields, but pared losses on safe-haven flows from COVID-19 and high inflation.
Spot gold edged up to trade around 1791 in Asia on Thursday (Nov 25). On Wednesday (Nov. 24) gold cross, but hit a new low since November 4, because of the strong economic data boosted the dollar and higher bond yields, the concerns of the market for the fed to raise interest rates earlier than expected intensified pressure for gold bulls, but the outbreak and high inflation hedge funds support gold prices to make up lost ground. Today is Thanksgiving Day in the United States, the US stock market closed, the Chicago Mercantile Exchange precious metals trading ahead of the 26th 02:00 Beijing time, investors need to pay attention.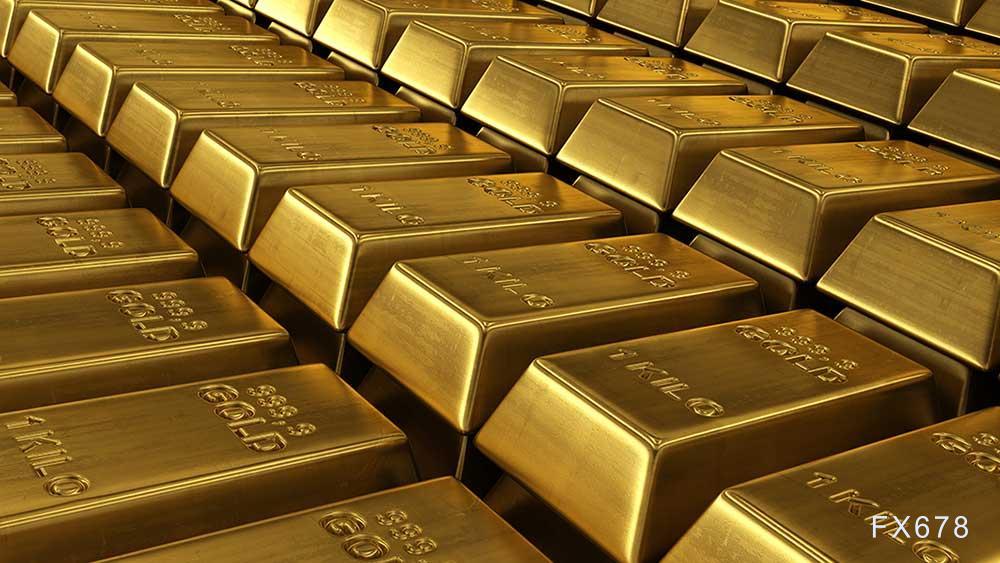 Fundamental bearish [Dollar jumps on hawkish Fed, strong consumer spending data] The dollar rose broadly on Wednesday as investors bet the Fed would tighten monetary policy faster than other central banks.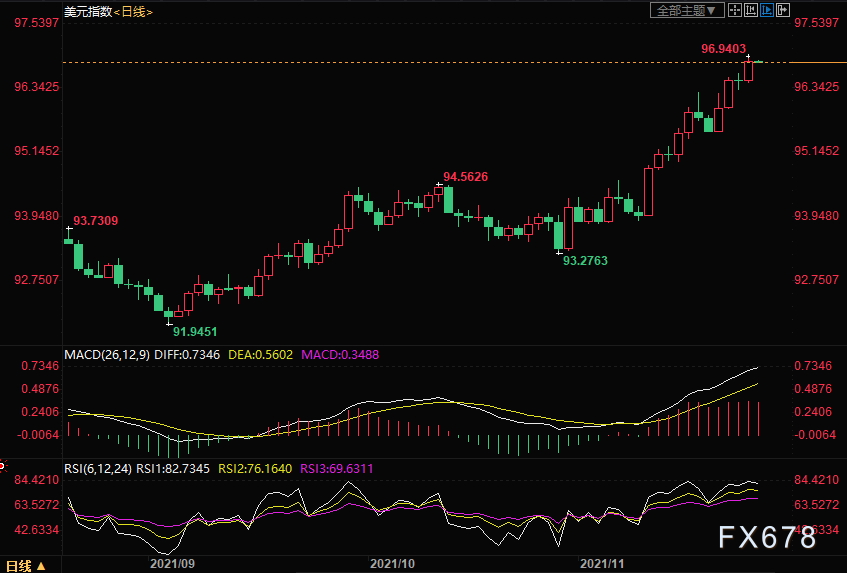 (Dollar Index daily chart) Fed officials have contributed to the more hawkish view that if inflation does not moderate, the Central bank may act sooner to try to contain rising price pressures, while the European Central Bank is expected to remain more dovish as Growth in Europe lags. Minutes of the Fed's last policy meeting, released on Wednesday, showed several policymakers said they were open to speeding up the end of the bond-buying program and moving toward higher interest rates if inflation remained high. The dollar's strength "reflects wishful doves on the part of the ECB leadership and more concern on the part of the Fed about inflation, so there may be a policy divergence," said Lou Brien, market strategist at DRW Trading in Chicago. San Francisco Fed President Mary Daley said on Wednesday she was open to the Fed accelerating the pace of tapering its asset purchases if inflation remained high and job growth remained strong. The euro was hit on Wednesday by data showing German business confidence deteriorated for a fifth consecutive month in November. [S&P 500 and NASDAQ close higher] On Wall Street, the S&P 500 and Nasdaq ended higher on Wednesday, boosted by gains in Nvidia and other technology stocks.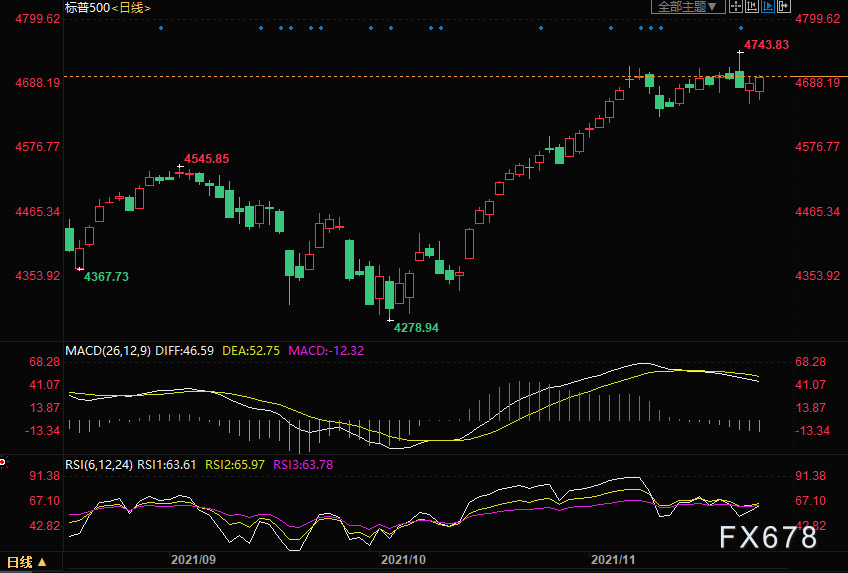 (S&P 500 daily chart) The S&P 500 was nearly flat for most of the session before climbing into the close. Consumer discretionary stocks in the S&P 500 rose 0.2 percent after data showed U.S. consumer spending rose more than expected in October. The Fed's preferred inflation gauge, the core personal consumption expenditures (PCE) price index, also accelerated to 5 per cent in October, matching the CPI's 31-year high. Minutes from the Fed's November policy meeting showed several policymakers said they were open to speeding up the end of the bond-buying program and moving toward higher interest rates if inflation remained high. Other data showed new claims for jobless benefits fell last week, third-quarter gross domestic product was revised up and a Survey from the University of Michigan showed consumer sentiment improved in November. [More Fed policymakers open to accelerating tapering and raising rates sooner] Minutes from the Fed's November policy meeting showed more policymakers signaled they were open to speeding up the end of their bond-buying program and a move toward higher interest rates if inflation remained high. Minutes released on Wednesday showed the Fed's unease about rising inflation was deepening, and many officials at its November 2-3 policy meeting also suggested pressures from high prices could be more persistent. The persistence and build-up of price pressures caught both the White House and the Fed by surprise and prompted a response. President Joe Biden and Federal Reserve Chairman Jerome Powell stressed earlier this week that they would take steps to address rising prices for everyday items like food, gas and rent. "Many participants noted that if inflation continued to run above the Committee's objective, the Committee should be prepared to adjust the pace of its asset purchases and raise the target range for the federal funds rate sooner than expected," the Fed said in the minutes. With more strong economic data coming out over the past three weeks, all signs point to the Fed explicitly raising the issue of accelerating tapering at its next meeting on December 14-15. [San Francisco Fed president Daley says open to faster Tapering] San Francisco Fed President Mary Daley said on Wednesday she was open to accelerating the Fed's pace of tapering asset purchases if inflation remained high and job growth remained strong. "If things continue as they are, then I'm all for accelerating the pace of tapering," Daley said in an interview with Yahoo Finance published On Wednesday. Daley said she was "open" to the idea but would like to see more economic reports on inflation and employment and discuss it with her Fed colleagues before making a decision. On raising rates, Daley said she wanted to see how the economy performed in the first and second quarters of next year before making a decision. She expects the Fed to raise rates by the end of 2022, but notes that even after two hikes, Fed policy will remain accommodative. "I don't want to be tied down by a single number," Mr Daley said when asked if he would stick to one rate rise next year. "I wouldn't be surprised at all if there were one or two in the second half of next year." [New U.S. jobless claims fell to 52-year low last week] The number of Americans filing new claims for unemployment benefits fell to a 52-year low last week, a sign that economic activity is accelerating as a year marked by shortages, high inflation and a relentless epidemic draws to a close. Initial claims for state unemployment benefits fell 71,000 to a seasonally adjusted 199,000 in the week ended November 20, the lowest since mid-November 1969. Economists polled forecast 260,000 initial applications. Claims are already below the pre-pandemic average of about 220,000. Initial claims have fallen from a record high of 6.149 million in early April 2020 and are now in the range of what would be considered a healthy labor market, although severe labor shortages caused by the pandemic have hampered faster job growth. Fundamental profit [U.S. consumer confidence drops to 10-year low in November] Us consumer confidence fell to a 10-year low in November from the previous month as rising prices continued to eat into Americans' spending power. On Wednesday, the University of Michigan's final index of consumer sentiment fell to 67.4 from 71.7 in October, slightly above a preliminary reading of 66.8 and the median forecast of economists surveyed. "While supply shortages caused by the pandemic were the primary cause, inflation has become more entrenched and more widely spread across the economy," Richard Curtin, head of the survey, said in a statement. Respondents said they expected inflation to rise 3 percent over the next five to 10 years, slightly higher than the initial estimate. Inflation expectations for the coming year are 4.9%, the highest since 2008. Consumer prices as the labor market continues to improveIs rising at the fastest rate in decades. Personal spending, which slowed sharply in the third quarter, is set to accelerate again in the final three months of the year, but some fear the recent drop in consumer confidence could herald weaker demand ahead. A gauge of household purchases of durable goods fell to its second-lowest level since data began in 1978. The measure of current conditions fell to 73.6, while expectations for the future fell to 63.5. [German President Stresses that the COVID-19 crisis is far from over and calls for attention] German President Frank-Walter Steinmeier said on Sunday that the COVID-19 pandemic is far from over and urged the whole society to face up to the danger of the epidemic. "In the autumn of 2021, we should recognize that we are a long way from overcoming this crisis," Steinmeier said. "As a society, we cannot and should not turn a blind eye to this," Steinmeier said, calling the number of deaths in Germany "unbelievable." Overall, U.S. data on Wednesday were generally positive, but high inflation worries Fed officials and consumers and the possibility of an early interest rate hike continued to support the dollar and pressure on gold, which is expected to remain weak in the near term. \r\n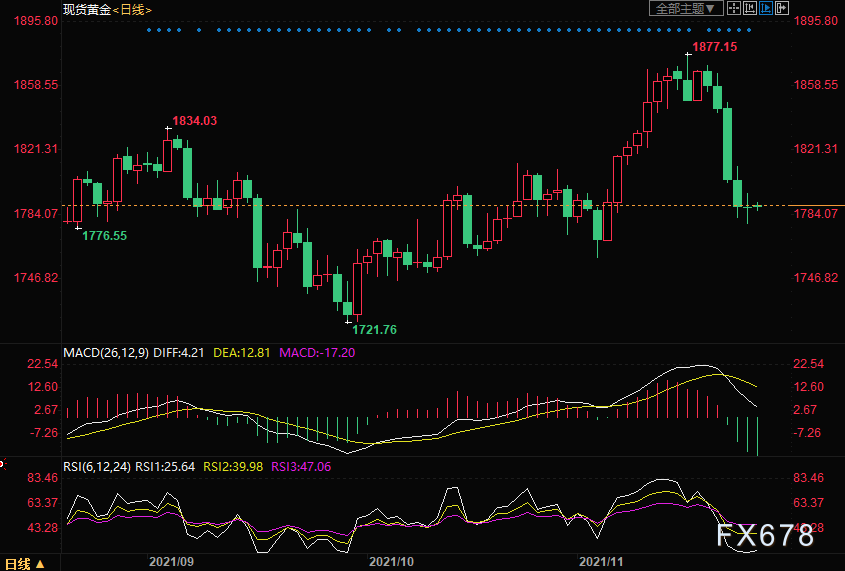 (Spot gold daily chart) Spot gold was quoted at $1791.83 per ounce at 8:41 Beijing time.
[ Disclaimer ] This article only represents the author's own views, and has nothing to do with the website.The website net maintains neutrality in the statement and opinion judgment of the article, does not provide any express or implied warranty for the accuracy, reliability or completeness of the content contained therein, and does not constitute any investment proposal, and invites the reader for reference only, and assumes all risks and responsibilities by himself.