INE crude traded in a tight range as investors looked to next week's event
Individual
Nov 25,
2021
07:50:25
GMT
Leads:Shanghai crude oil prices rose 0.47% on Nov. 25 as major consuming countries rushed to release reserves to cool the market and investors waited to see how major oil producers would respond even as data showed healthy U.S. fuel demand.
Shanghai crude oil prices rose 0.47 percent on Thursday, with the main contract 2201 closing at 509.1 yuan a barrel, up 2.4 yuan, as investors waited to see how major oil producers would respond to an emergency release of reserves by major consumers to cool the market, even as data showed healthy U.S. fuel demand. "The bold move by crude importers opens the door for OPEC+ to adjust its supply policy downward at its next (meeting) on December 2, 2021," Louise Dickson, an analyst at Rystad Energy, said in emailed comments. However, three OPEC+ sources said the group is not currently discussing a pause in production despite the release of crude reserves by the United States and other countries.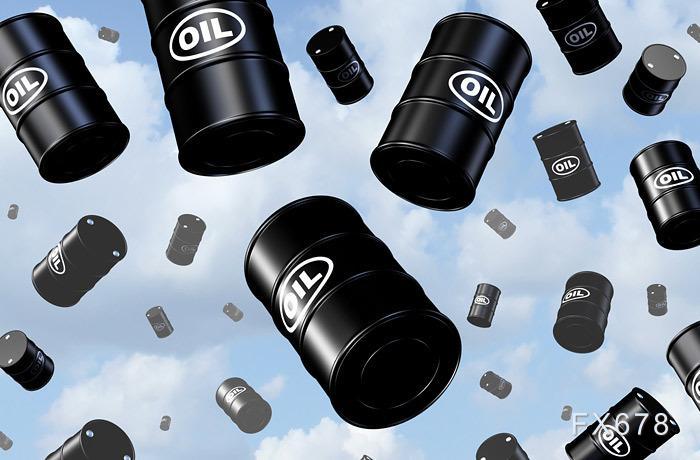 Futures contracts and turnover at a glance

Trading overview and trading strategy Shanghai crude oil prices rose 0.47%, with the main contract 2201 closing at 509.1 yuan/barrel, up 2.4 yuan/barrel.
(Daily chart of INE crude oil) Trading logic: Oil prices edged lower on Wednesday and traded sideways in Asia on Thursday, with opportunities on both sides. With oil price volatility likely to be limited during the Thanksgiving holiday, the market is most focused on OPEC+ 's response to Biden's release next week. Investors are advised to wait and see, waiting for further fermentation of fundamental news. Resistance: INE 522.7, US 80.54 Support: 500.0 INE, 77.54 US News from China and overseas Competition in the Asian LNG spot market is rising as South Korea replenishes natural gas supplies Kogas this week bought at least nine cargoes from the spot market for delivery in December and January, intensifying competition for limited supplies of winter fuel, according to traders familiar with the matter. Several Japanese utilities have also begun contacting suppliers seeking to buy or exchange goods for delivery in December or later. La Nina is expected to cause cooler than usual temperatures in North Asia this winter, and as temperatures drop, a global energy crisis will put renewed pressure on the power grid and heating fuel supplies. Traders said suppliers were still supplying north Asian ports with several cargoes for Delivery in January. And with a shortage of importers in South Asia, more supplies are flowing elsewhere. PAJ: Japan's commercial crude oil inventories rose to 9.65 million kiloliters in the week ended Nov. 20 Japan's commercial crude oil inventories rose 510,000 kiloliters to 9.65 million kiloliters in the week ended November 20 from the previous week, data from the Japan Petroleum Association showed on Thursday. Japanese gasoline inventories rose 81,000 litres to 1.59 million litres. Japanese kerosene stocks fell 110,000 litres to 2.72 million litres. Japanese naphtha stocks fell 4.5 KCL to 1.26 KCL. Japanese refineries' average capacity utilization rate was 75.9 percent, compared with 73.5 percent in the previous week. Germany has more than 100,000 COVID-19 deaths According to the Robert Koch Institute in Germany, the cumulative number of COVID-19 deaths in Germany has exceeded 100,000, and infections are still soaring. Germany's death toll remains below that of Britain, France and Italy, all of which surpassed 100,000 some time ago. Germany's rising number of deaths is only about a fifth of last winter's, and about 68 percent of the population is fully vaccinated. Still, hospitals in some parts of Germany are increasingly overwhelmed, and the government's latest measures have yet to show tangible results. The number of infections has climbed further, but the German government has been slow to respond, and experts warn that another lockdown will inevitably do more damage to the German economy and delay its recovery. The global aviation industry continues to recover With the increase of COVID-19 vaccination rates and the gradual lifting of restrictions on domestic travel and inbound tourists in some countries, the global aviation industry has seen a remarkable recovery in the near term, and many aviation agencies have raised their market expectations. However, debt burdens, repeated outbreaks and rising fuel prices still pose challenges to the industry's recovery. The global aviation industry is expected to see losses shrink further in 2022 and return to profitability as early as 2023, iATA predicted. (People's Daily) The German president stressed that the COVID-19 crisis is far from over and called for attention German President Frank-Walter Steinmeier said on Sunday that the COVID-19 pandemic is far from over and urged the whole society to face up to the danger of the epidemic. "In the autumn of 2021, we should recognize that we are a long way from overcoming this crisis," Steinmeier said. "As a society, we cannot and should not turn a blind eye to this," Steinmeier said, calling the number of deaths in Germany "unbelievable." (CCTV) Institutional point of view Huatai Futures: EIA crude oil stocks increased, refined oil stocks fell We believe that there are three main reasons why the joint selling of stocks is not as good as expected. First, the range is not as good as expected, especially in this year, the us selling of stocks is only 18 million barrels, far lower than the emergency release of 30 million barrels in 2005 and 2011. Second, the pace of disposal is very slow. 32 million barrels out of 50 million barrels will be released next year in the form of rotation storage, which needs to be replenished in the future. Third, the reserve crude oil sold is sour crude oil. Currently, due to the high natural gas price, light and sweet crude oil is more scarce than sour crude oil, and dumping and storage cannot solve the current structural contradiction. Guosen Futures: US commercial crude oil inventories increased, oil prices focus on the upper resistance International oil prices edged lower as U.S. crude inventories rose and traders awaited a response from Opec and its production-cutting Allies to a coordinated release of strategic stockpiles by big consumers and importers. President Joe Biden on Tuesday announced a partnership with China, India, South Korea, Japan and the United Kingdom to release tens of millions of barrels of oil from strategic reserves in an attempt to cool prices. As of Nov. 19, according to the U.S. Energy Information AdministrationFor the week, U.S. crude stocks stood at 434.02 million barrels, up 1.02 million barrels from the previous week. On the technical side, oil is focused on the upside resistance. Operation suggestion: wait and see temporarily. Everbright futures: oil prices continue to shock operation Some OPEC+ representatives have said they could cancel a planned increase in January if the market is flooded with crude from reserves released by the United States and other countries. The OPEC oil cartel has predicted that the release of strategic oil reserves by major consuming countries could greatly exacerbate a glut in the global market. The United States says the standoff between the International Atomic Energy Agency and Iran "bodes ill" for nuclear talks. Britain, France and Germany have told the International Atomic Energy Agency they are ready to renegotiate Iran in Vienna. The US Department of Energy announced that 32 million barrels of crude oil released from the Strategic Petroleum Reserve SPR will be delivered between January and April 2022, and will receive early delivery at the end of December. Release notices for up to 18 million more barrels of the STRATEGIC Petroleum Reserve SPR will be announced no earlier than December 17, 2021. Current oil prices continue to run volatile, waiting for the latest Opec meeting next week. Citi: Opec + is expected to stick to its production increase plan Citi said in a note that Opec + is likely to stick to its plan to increase Supply by 400,000 BPD in January at its December 2 meeting, despite plans by major consuming countries to release strategic crude reserves. With the market pricing oil at $80 a barrel, if Opec + reduces its quota, it looks like an overreaction and clearly contradicts its claim to be in the public interest by stabilising the market. Opec + 's real monthly output growth is usually below 250,000-300,000 b/d as some producers are unable to meet their increasing quotas. Opec + production is expected to be 39m b/d in November, about 650,000 b/d below the 39.7m b/d quota. \r\n
[ Disclaimer ] This article only represents the author's own views, and has nothing to do with the website.The website net maintains neutrality in the statement and opinion judgment of the article, does not provide any express or implied warranty for the accuracy, reliability or completeness of the content contained therein, and does not constitute any investment proposal, and invites the reader for reference only, and assumes all risks and responsibilities by himself.